tw//pet illness,vet ment.,surgery ment.,death ment (vague)
My 12 year old male cat, "Chi-ro" has been battling urinary problems since September 17th. He's been struggling to urinate properly. It is such a stupid, stupid thing. It's no visible injury or illness, but it is VERY dangerous as not being able to empty the bladder can lead to some serious poisoning. In the past month, he was put under anesthesia over 6 times, had a catheter about 4 times, had 10-ish injections, a ridiculous amount of pills, diets, and so on. None of it ever worked. Our former vet was unwilling to help him. She said he can not be saved - Because of this, we almost lost him on Sept. 27th. We went to her for the last time that day. She was expecting us to see us afterwards, but we did not show up. Every visit at her office cost us 65$ and she never really helped him. He was not getting better. We asked where we can go to get an x-ray, ultrasound, or anything at all. (She did not do any scans or blood test that whole time), - she redirected us to some vet on the other side of the country. She said there is NO other vet nearby (Which would be good for her - because we would obviously not travel half the country with an ill cat as it would be impossible to do without a car) - Which was exactly the answer she wanted from us cuz she didn't want to lose any customers. - My mom thought it was sketchy and did some research. Turns out,there are 3 other clinics in the town and several nearby. We saw right through her bs and never contacted her ever again, as she only cared about making fat stacks off of not-actually helping an ill animal....In the next day or two,we found our cat a GOOD doctor in the same town. And i mean a GOOD doctor, someone much more professional, caring, and straight-forward. He checked up on our cat,did several scans,gave him meds,and asked for less than 30$ the first session. We've been going on check ups with him time after time,he still struggles,it's more of a long-time condition as male cats are sadly more vulnerable to urinary issues. We take our cat on checkups almost every 2nd day. Doc hoped he would be able to get him out of this situation without any surgery,and we did give our cat lots of time and care,but even after all possible treatment,he was not getting much better. So. He scheduled us to bring him for a surgery (our cat's first surgery,ever). We went there yesterday,and because he was not feeling too well,they would keep him overnight. Today,my mother picked him up on her way home from work.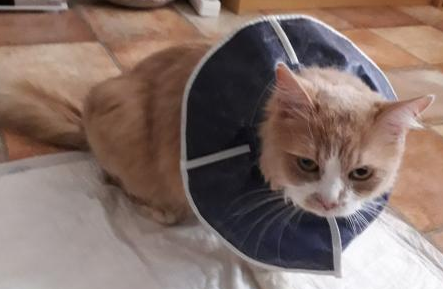 He was not too happy about his scar,and wanted to keep licking the wound. He was probably in pain and stressed out from everything. We gave him some food,water, and let him rest. (We also gave him a very careful shower 'cuz he was like bleeding a bit) ...After two or three hours,i could see he felt better. He was clearly glad to be at home. He is still very tired, and probably hurting (the scar is NASTY.) -- but through this all,he was still able to purr and be happy. He is very brave and i am so so so proud of him because he's made it through so much and he's been fighting like a warrior....cat.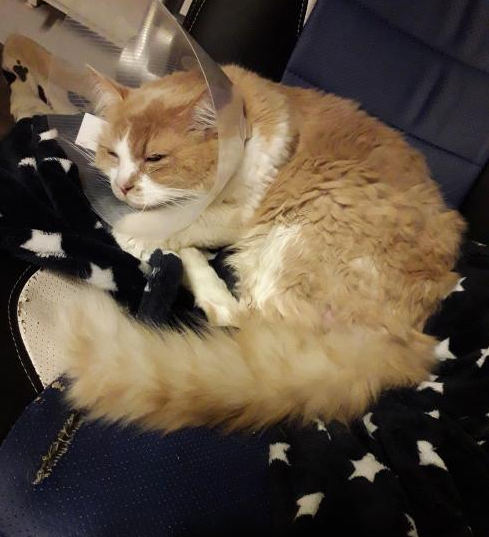 Here he is now,asleep on my computer chair. He got much more comfortable & i gave him a little blanket so he could stay warm. (I usually don't let him sleep on my chair,but..now,i honestly don't care. I'll find another one or stand up if i have to. what matters to me is that he is comfortable)
I can't even say the amount of times we've cried over him in the past month. It's a ridiculous amount. I didn't think he would still be here to this day and i am so so glad to have him with me. I got him when i was still young. He's been my best, and at many points in life: my only friend. We've been through thick and thin together and he was there for me when i needed it the most. So now,i am here for him! We've spent an insane amount of money on vet bills,but the doc we have now is nice and he often doesn't make us pay at all. I think it's because he's just genuinely glad that some people would do so much to help their pet - Because again,not everyone would do all this or pay so much to help an animal,even if it is their own.
Here is a small doodle i made of him. He does not look healthy,i know. But this was a big step for all of us. His scar looks far worse than this irl,but it should all heal up fine and hopefully it will be over soon and he can go back to laying in the grass n smelling the fresh air while the sun shines on his fur.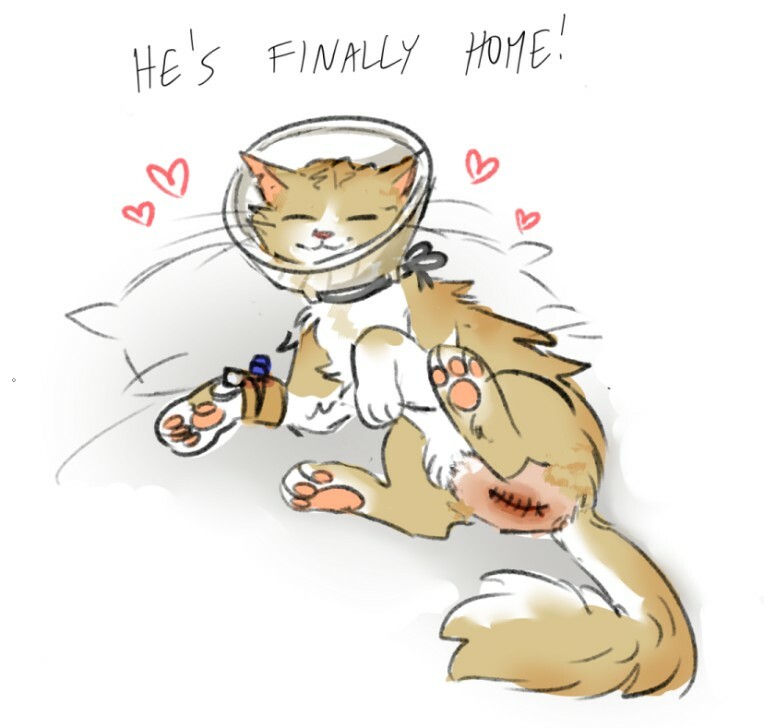 Sorry this post went on forever!
Both me,my mother,and close friends of mine hope he recovers soon and hopefully gets rid of all the trouble he's had for over a month now. We all love him so much. Get well soon kitty boy! we're all rooting for you
If you've made it this far and listened to me get all this crap off my chest, thank you so much for listening. It means a lot. It truly does. Thank you!